PhanaticMC
PvP fixed: cooldowns removed
I was recommended this amazing plugin that reverts pvp to how it was in 1.8/1.7 and it actually works! All servers where pvp is possible I have added it. You're welcome
Prison Update
This past friday prison reset, and though there was a pretty big database issue that occurred within the first hour after the reset I managed to fix it quickly and things are now running smoothly. I definitely recommend you check out the server, as it really is the product of a ton of hard work by both the build team in making the amazing blocks & mines as well as myself with the coding.

Here is a list of some of the new features we added since the original release of prison:
- blocks Q through Z all built with mines shops and buildings in each
- a guidebook with tons of information
- extra block and the end world you can access to kill the dragon if you beat the loot challenge (check guidebook for info)
- balancing of previous mines for consistency and fairness for rankups
- lag-free rankup system (this was a big issue last time every time someone ranked up)
- prestige system, get some gold stars and go through the blocks again
- larger plots...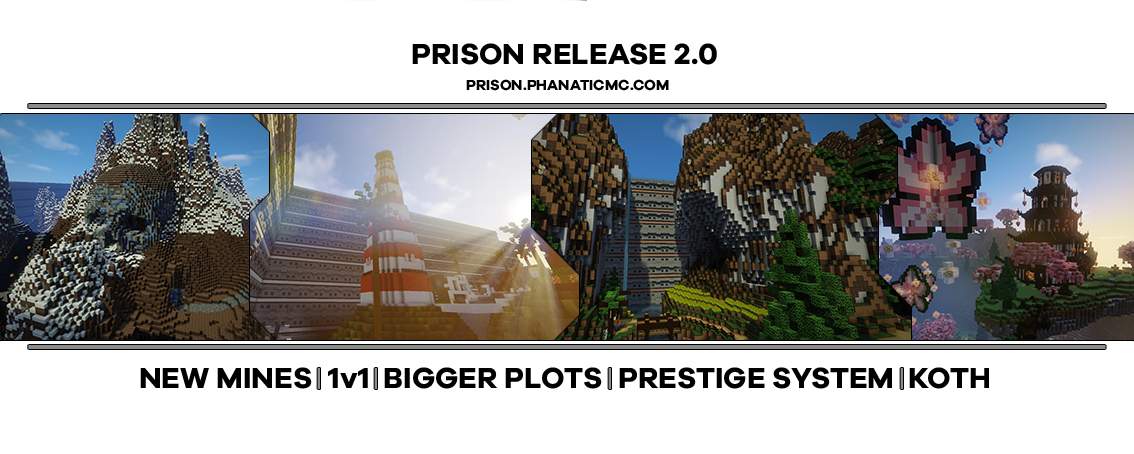 The prison reset is coming soon! It will be a complete reset, except for donor ranks. We have learned a lot since first opening the prison server, and after this reset things will be better than ever. There is still a lot of work to do, but get hyped it is coming as fast as possible! Blocks Q - Z have all been built and look amazing, and we will be adding some of the events such as KoTH and 1v1 from factions over to prison. A lot of the prices have been adjusted as well. ETA for this is sometime in September, depends how hard we work
Creative Reset (edit: already done)
I know before I said the reset will be partial, but things have changed, mainly due to my decision to no longer follow EULA. I will
not
be making a separate white-list creative server anymore. I will be resetting the 100x100 and 500x500 plot world, and deleting the guest world (guests can now get 100x100 plots) Please save schematics of your...
Helper Ranks
first, congrats to tamba3 lRoixl and c0nsci3nc3 for being promoted to admin, if you see them congratulate them
In order to help promote staff presence on the server and to give people more of a chance to be involved at a higher level than just being a player I have decided to add a helper rank. Helper rank will be per-server and you will be expected to help out with questions on gameplay. Helper will not enforce the rules, only be an authority on answering questions about minecraft in general and how the server runs. This rank will also be used to significantly trim down moderator applications, as you will be required to be a helper first for a bit. If you have any more questions please ask below.
You can apply here:
https://phanaticmc.com/forums/helper-applications.71/
Make sure to read the information stickied thread:
https://phanaticmc.com/threads/helper-applications-information.27030/
Moderator applications are now here:...
August Updates
SkyWars, KitPvP, Hungergames
- stats reset
Parkour
- scores reset
Skyblock
- end reset
Creative
- warp list reset